Event date
03 / 08 / 2023 - Thursday 20:30
Bohemia Voice
Vocal Quartet and Oboe Quartet at candlelight
The Czech vocal quartet, Bohemia Voice will pay tribute to Czech music. The concert in the romantic, candle-lit St. Nicholas Church will commence with the majestic St. Wenceslas Choral, which will be followed by another tribute to a Czech patron Saint a series of Czech folklore songs in an adaptation by famous Czech composers – Bohuslav Martinů, Leoš Janáček, and Antonín Dvořák, accompanied by Riccio Quartetto in an original arrangement.
Access to the church is via a bumpy forest road. Please choose suitable footwear and inform us if necessary so that we can grant you an exception to drive your car right up to the front of the church.
Free parking is available along the main road approximately 200 metres far from the concert venue. Protect yourself from the effects of the forest environment and insects.
Artists
Bohemia voice:
Nikol Turoňová – soprano
Elin Špidlová – mezzosoprano
Bronislav Palowski – tenor
Mikhail Pashayev – baritone
Riccio Quartetto:
Radka Ondráčková – oboe
Alina Šobíšková – violin
Vendula Svobodová – viola
Martin Ondráček – violoncello
Elin Špidlová – concert dramaturgy
Program
St. Wenceslaus Chorale (arr. V. Ptáčková)
3 songs from Těšínsko: Chlyb, Lipka, Vróbel (ar. Irena Szurmanová)
Folklore songs: Láska, bože láska!; Kebych bola jahodú; Zahrajte mi tichúčko; A ja taká dzivočka; Holůbek a holubička (arr. T. Ille, M. Ondráček)
B. Martinů: Songs on two pages – Děvče z Moravy; Súsedova stajňa; Naděje; Hlásný; Boží muka; Zvolenovcí chlapci (arr. T. Ille, M. Ondráček)
L. Janáček: Moravian folk poetry in songs (Kolín; Pérečko; Láska; Polajka; Kouzlo)(arr. T. Ille, M. Ondráček)
Folk songs from Těšín Silesia Region (Chlyb, Lipka, Vrubel) (arranged by Irena Szurmanová)
A. Dvořák: Gypsy melodies – Má píseň zas mi láskou zní; Aj! Kterak trojhranec můj prerozkošně zvoní; A les je tichý kolem kol; Když mne stará matka; Struna naladěna; Široké rukávy; Dejte klec jestřábu (arr. T. Ille, M. Ondráček)
Bohemia Voice
The quartet performs not only in the Czech Republic but also celebrates its successes abroad. In 2017, the quartet toured India on the occasion of the anniversary of the founding of the Czech Republic, and in 2018, it sang the Czech national anthem for the Indian President during his visit to the Czech Republic. During the welcoming ceremony of the winning Olympians from Pyeongchang, the quartet sang the Czech national anthem in a quadruple voice on Old Town Square. In 2018, the quartet released its debut album, Christmas with Bohemia Voice. It regularly holds its own "experience concerts" at spiritually significant places in the Czech Republic
(e. g. the unbuilt church in Panenské Týnec) during the summer solstice and autumn equinox. Bohemia Voice regularly commissions Czech composers to compose or arrange songs that pay tribute to Czech saints.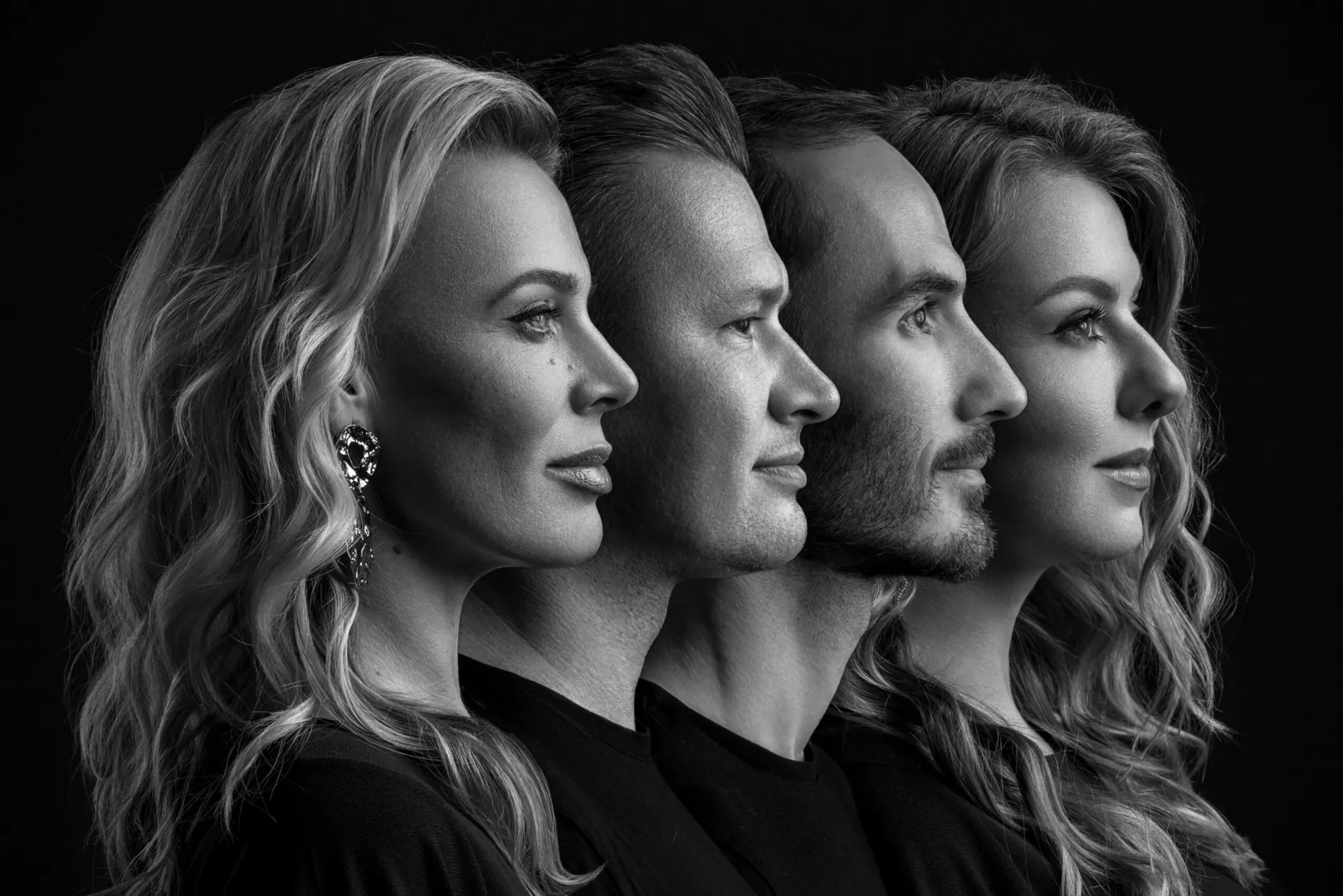 Riccio Quartetto
The chamber ensemble Riccio Quartetto was founded in 2013 by players of the Karlovy Vary Symphony Orchestra. The result is a quartet whose instrumental composition is not very frequent in chamber music. In its repertoire, the Riccio Quartetto offers compositions composed directly for oboe quartet (W. A. Mozart, J. Fiala, M. Arnold, B. Britten) as well as its own arrangements of well-known melodies, dances of different nations, ragtime and film music. In recent years, the Riccio Quartetto has regularly performed at events organized by the Karlovy Vary International Film Festival, and has also participated in the Beethoven Days Festival and the J. C. F. Fischer International Festival. On the crossover repertoire he cooperates with the vocal quartet Bohemia Voice (Petr Dvorský International Music Festival, live broadcast to TV Noe – Celestine Opitz Award).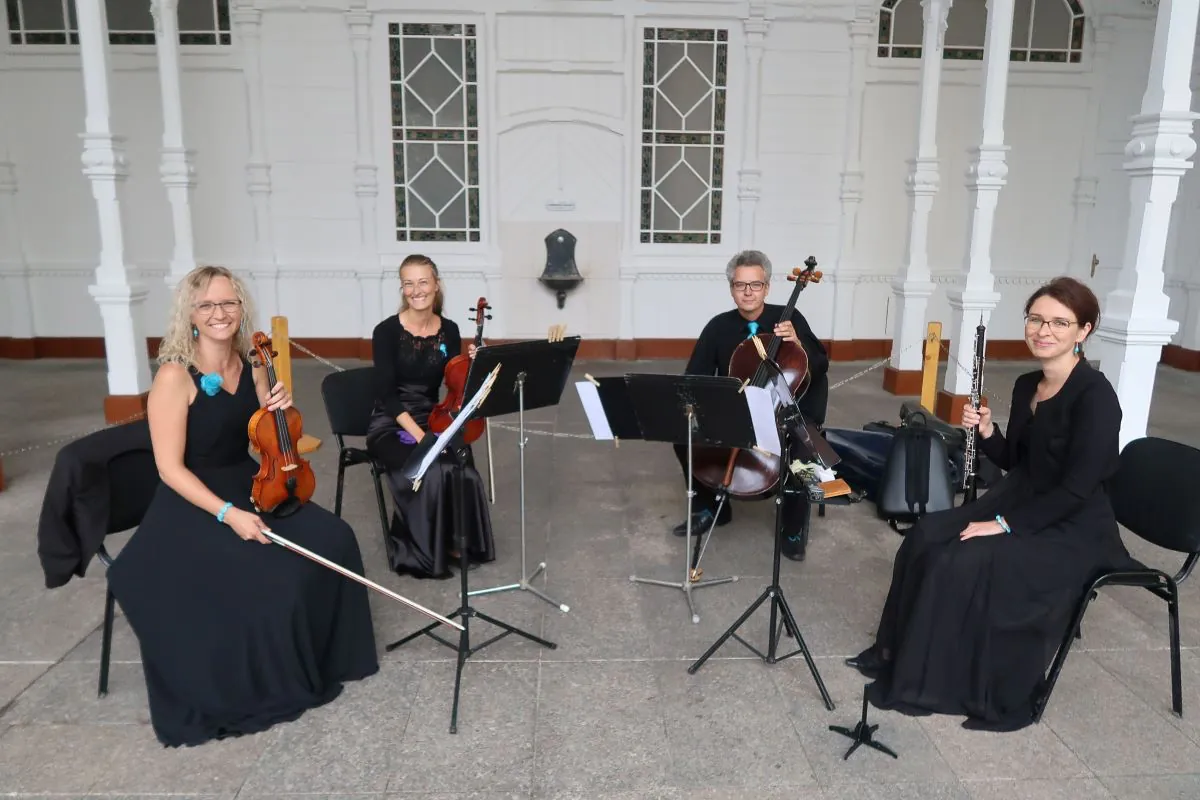 When you enter the church in Boletice, which stands in the middle of the cemetery on a high ground called Olymp, you will feel the atmosphere of tradition and history. The construction from the 12th century is part of the Military District of Boletice and is the oldest historic building in South Bohemia. It was Přemysl […]