Event date
31 / 07 / 2022 - Sunday 11:00
Organ matinée
On Sunday morning the audience at the Church of Corpus Christi and the Grieving Virgin Mary on Sunday morning will listen to the compositions of one of the greatest musical geniuses of all time, J. S. Bach. Leading Czech organist Jaroslav Tůma. He is known as a harpsichordist, improviser, and clavichord player and during this festival concert, he will play the oldest organ in Český Krumlov. He also specializes in playing historical keyboard instruments. Jaroslav Tůma is an associate professor at the Faculty of Music at the Academy of Performing Arts in Prague and for his expertise, he is often invited as a judge in prestigious international competitions.
Acting
Jaroslav Tůma – organ
Program
Johann Sebastian Bach:
Sonata in D major, BWV 963: Allegretto – Recitativo – Andante – Adagio – Allegro
The Art of Fugue, BWV 1080 (selection): Contrapunctus I., II., IV.
Fantasia / Rondo in C minor, BWV 918
Chorale "O Lamm Gottes unschuldig" for Pipe Organ, BWV 1095
Concerto in D minor, BWV 974 by Allessandra Marcello: Allegro – Largo – Allegro
Fantasy and Fugue in A minor, BWV 904
Jaroslav Tůma
Jaroslav Tůma was born in 1956. He is a concert organist and professor at the Academy of Performing Arts in Prague. He also performs on harpsichord, clavichord, piano and other keyboard instruments. & Nbsp; He graduated from the Prague Conservatory with prof. Jaroslav Vodrážka and the Academy of Performing Arts in Prague with prof. Milan Šlechta (organ) and prof. Zuzana Růžičková (harpsichord). He won first prizes in organ improvisation competitions in Nuremberg in 1980 and in Haarlem, the Netherlands in 1986, and won a number of interpretive organ competitions, such as in Linz in 1978, the Prague Spring Competition in 1979, and the Johann Sebastian Bach Competition in Leipzig in 1980 and many more. He teaches at international organ courses and seminars. Tům's repertoire includes key compositions by Czech and world composers in a wide range of styles from the Renaissance to the 21st century. His discography includes over fifty solo titles.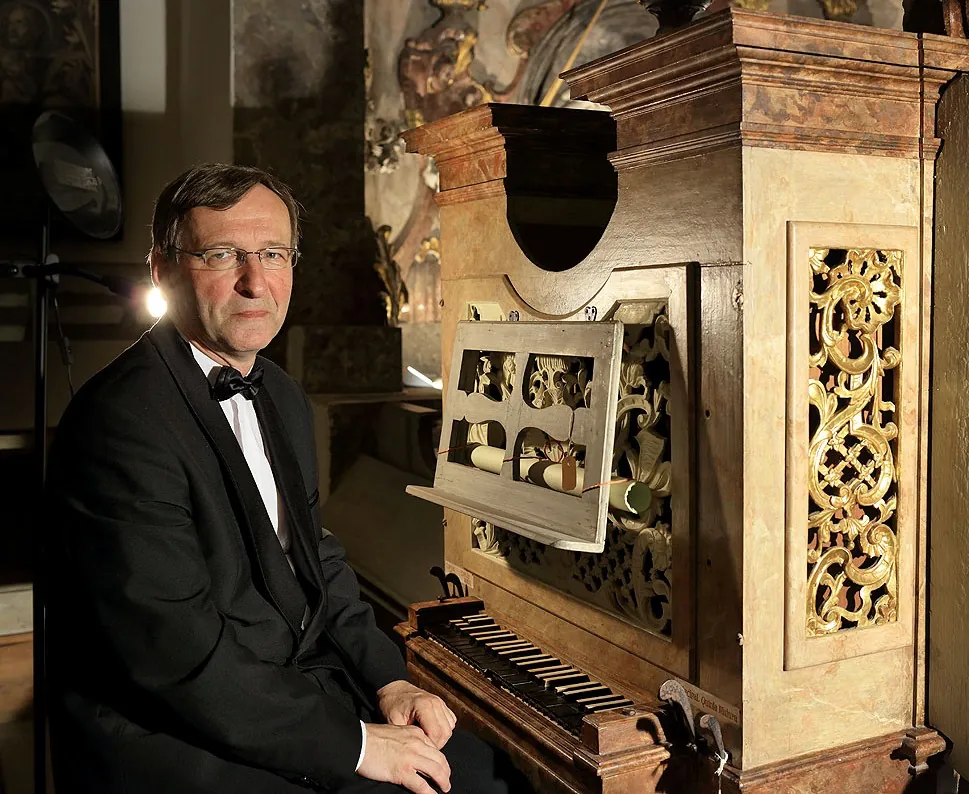 Behind the baroque altar, you will find the oldest preserved organ in Český Krumlov, about which we may say that it is completely original.