Event date
02 / 08 / 2023 - Wednesday 19:30
Alinde Quintet
Wind Quintet of the generation next
The concert of the leading, young wind instrument group, Alinde Quintet will take place in the majestic atmosphere of the Krumlov Synagogue, also known as the Temple. Music by the Czech, Jewish author, Pavel Haas, who died in the Auschwitz Concentration Camp, will sound in this exceptional place. Divertimento will remind us of the 100th anniversary of the birth of Czech musical composer, Viktor Kalabis. The young musicians will also present the Dmitri Shostakovich String Quartet, as adapted to the wind instrument quintet and almost forgotten Concertino for Quintet by Jan Novák.
Artists
Alinde Quintet:
Anna Talácková – flute
Barbora Trnčíková – oboe
David Šimeček – clarinet
Kryštof Koska – French horn
Petr Sedlák – bassoon
Program
P. Haas: Wind Quintet, op. 10
V. Kalabis: Divertimento for Wind Quintet, op. 10
intermission
D. Shostakovich: String Quartet No. 8, op. 110 (arr. for a wind quintet by M. A. Popkin)
J. Novak: Concertino for a Wind Quintet
Aliande Quintet
Alinde Quintet was founded in 2019 by successful young interpreters from the Czech Republic – Anna Talácková (Flute), Barbora Trnčíková (Oboe), David Šimeček (Clarinet), Kryštof Koska (French Horn), Adam Plšek (Bassoon). They studied at renowned Music Universities in London, Brussels, Ljubljana, Basel, Lyon, Prague and Brno.
Very soon the ensemble received 1st Prize at the Bucharest International Music Competition for Wind Quintets and shortly after also 1st Prize at the ODIN International Chamber Music Competition. Recently, they were selected among 10 wind quintets from all around the world to participate at Carl Nielsen International Chamber Music Competition 2023.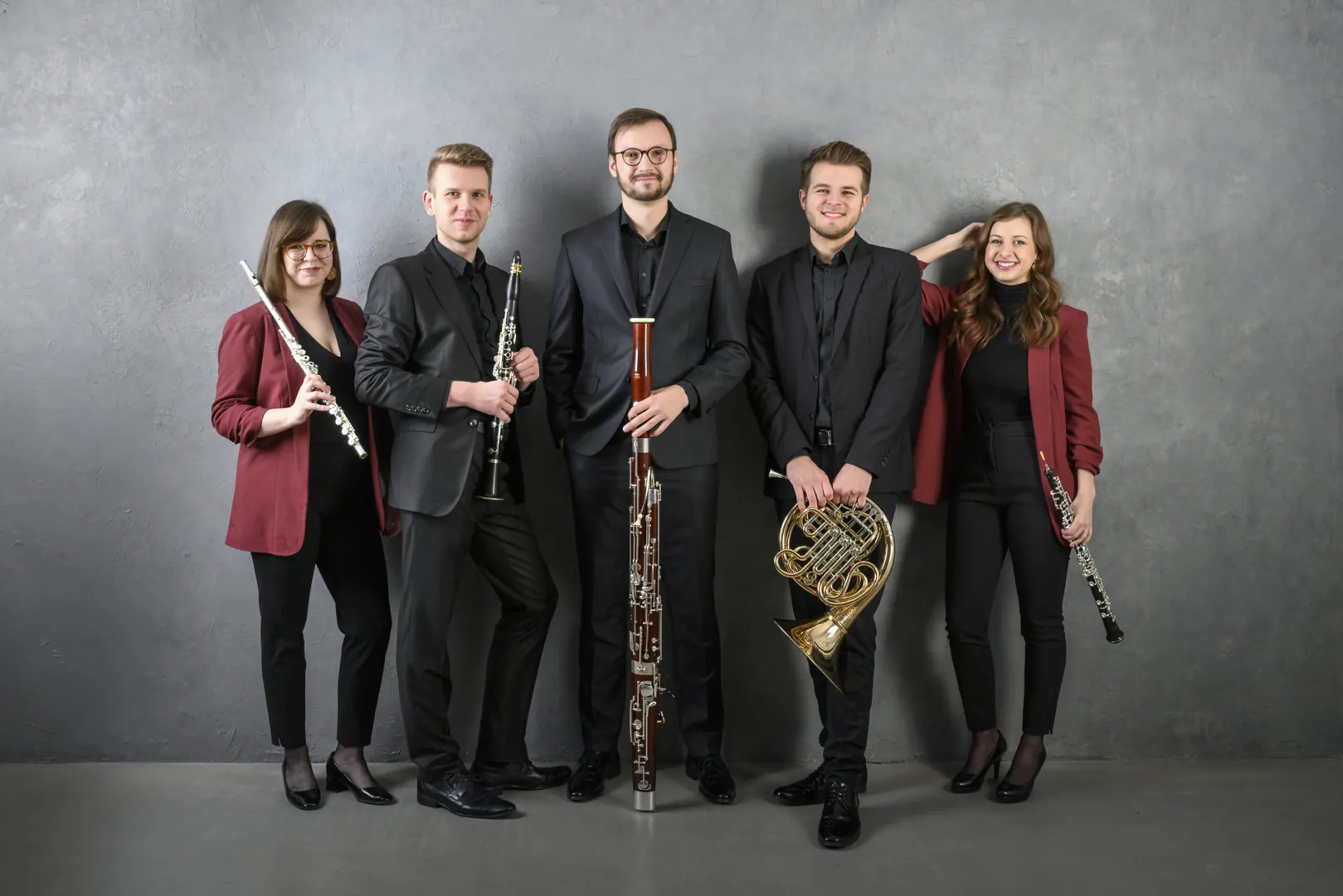 The synagogue is a new multi-functional space established after the successful revitalization of the third meander of the Vltava River. The Jewish Synagogue is a jewel of Art Nouveau architecture and its interiors show a unique combination of elaborate replicas of the original decoration. In the former flat of the Rabbi, you can find Synagoga Café & Bistrot, […]